The DynaFont's the Jiji Super Chill Out School Participated in the 2022 AD SUPERSMART Event at the Taipei New Horizon Creative Center
Category:
Sketches of events
2023/01/10
The DynaFont's the Jiji Super Chill Out School Participated in the 2022 AD SUPERSMART Event at the Taipei New Horizon Creative Center
The DynaFont's the Jiji Super Chill Out School Participated in the 2022 AD SUPERSMART Event at the Taipei New Horizon Creative Center,
Demonstrating the Value of Physical and Mental Health through the Concept of Chilling Out
What's the first thing you think of when you hear the word "advertising"?
 
Every generation has its distinctive memories of classic advertisements. For many people, advertisements are no longer just a form of commercial marketing; instead, they are seen as a reflection of the unique social customs, ideas, and popular culture of an era. Classic slogans from adverts are often representative of some value or mentality, and show how people thought about and pursued their ideal life.
 
The Taipei New Horizon Creative Center (TNHCC) held the AD SUPERSMART exhibition in 2022 based on the theme of "advertising". The event, which took place at the Cultural Plaza on the ground floor of the TNHCC, was designed to resemble a supermarket, which is an environment that people are familiar with in their everyday lives yet allows for a diverse range of creative works. AD SUPERSMART was curated by Shenan Chuang, co-founder of Ogilvy Taiwan and Chief Vision Officer at Cothinker, who leveraged her experience and vision from having worked many years in the advertising industry to portray the close developmental links between advertising and Taiwan's society since the end of martial law in 1987. Ten major value propositions were identified, and 38 representative advertising works were selected to illustrate them, serving as a timeline that displays how advertisers have anchored society's development through their creativity and beliefs over the last thirty-some years.
 
The Jiji Super Chill Out School, which was held in the summer of 2022, was also included in the exhibition as part of the Physical and Mental Health value proposition. People nowadays have to deal with work, life, and the Covid-19 pandemic, which has led to stress building up like a pressure cooker on a stove. It is essential to find a way to vent some pressure before the whole thing pops. Thus, chilling out and doing nothing has become a state of being that many people want to learn but do not know how to reach. DynaFont created the Jiji Super Chill Out School by compiling the local characteristics along the Jiji Line, a century-old railway, and collaborating with local organization, public agencies and local mom-and-pop shops in the area to create 36 relaxing, hands-on classes, which visitors can enjoy in these small, remote towns that have seen their populations gradually move away over the years.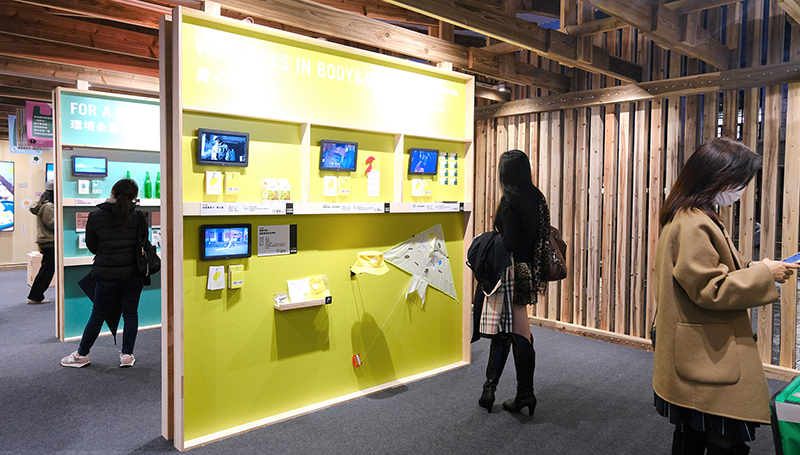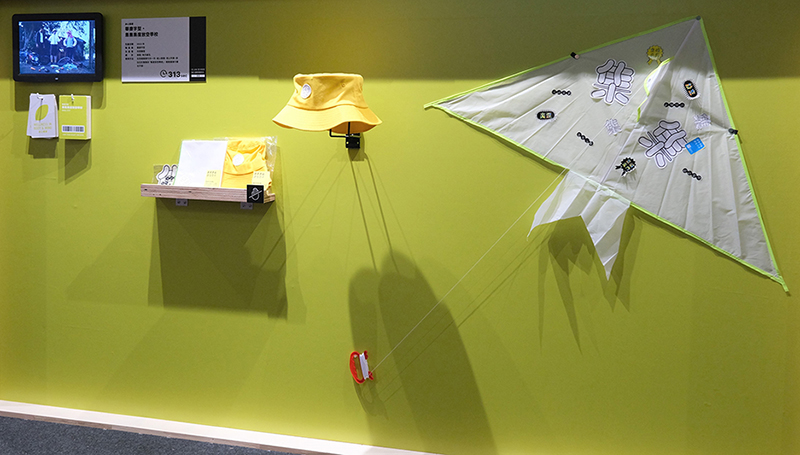 Ten Value Propositions in Three Exhibition Zones, Guiding Visitors to Learn, Observe, and Participate
---
The AD SUPERSMART event was divided into three exhibition zones, namely Talking Advertisements, Seeing Advertisements, and finally the interactive Entering Advertisements. Visitors first receive a shopping basket at the entrance before embarking on a shopping trip that involves spending no money, and instead only asks them to spend their time and attention.
 
The exhibition started with an overview of the major historical events since the end of martial law, and concurrently showed the advertisements that appeared during these times. Then, the development of Taiwan's society over nearly three decades was presented to the viewer in the form of 38 classic advertisements, to show the ten major value propositions: The Next Generation, Gender Equality, Consumer Behavior, the Feminist Movement, Labor Value, Ideal Living Environment, Taiwan Flavor, Physical and Mental Health, Sign of the Times, and Environmental Sustainability. Visitors could pick up goods corresponding to the value propositions that resonated with them, then bring them to the checkout for purchase. They would receive customized "itemized bills" based on the values they selected. The whole process symbolized being willing to pay a price for the values most important to them.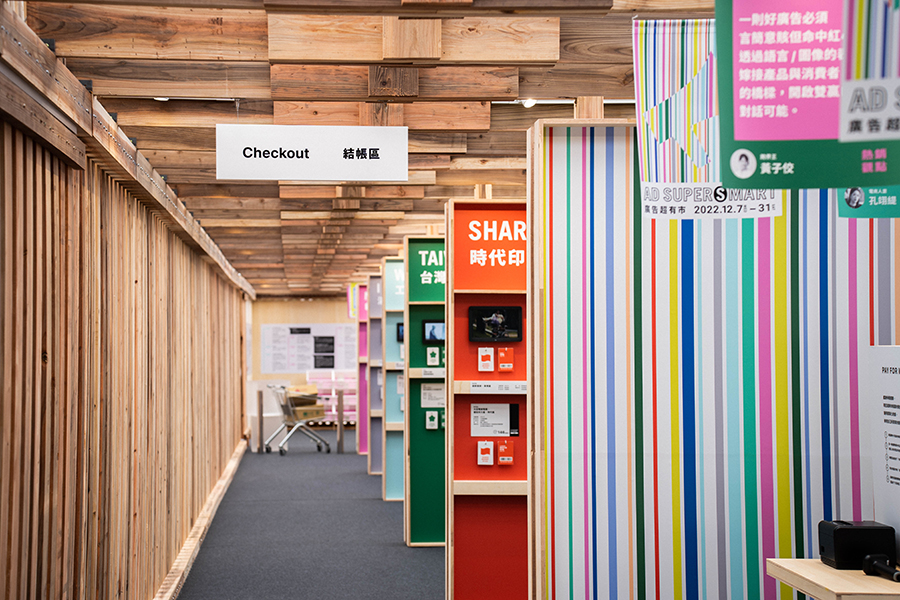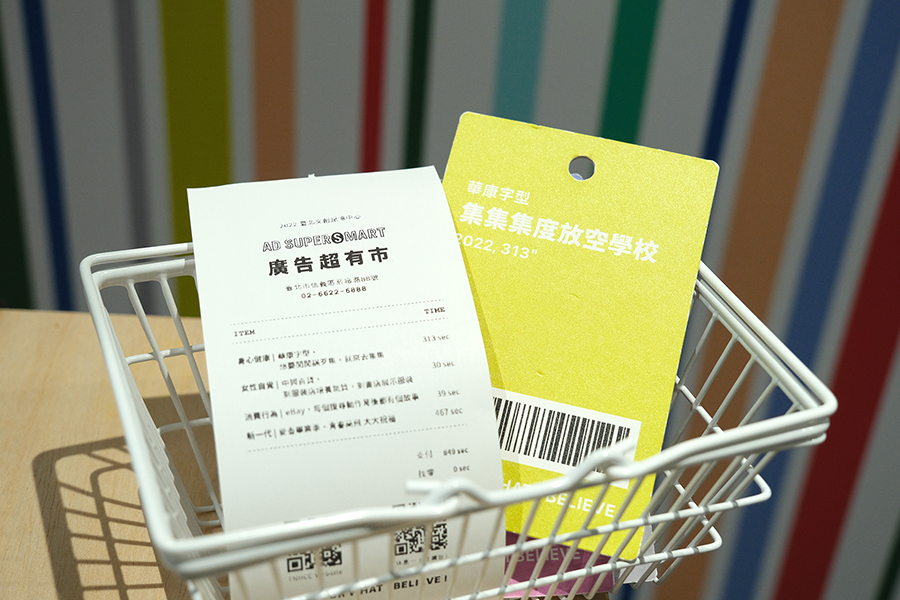 The exhibition was held from December 7 to 31, 2022 at the Songshan Cultural and Creative Park in Taipei. In addition to the exhibition itself, AD SUPERSMART also organized a series of lectures on Saturday, December 17, 2022. The speakers were introduced by Shenan Chuang, and included President Chi-Yi Chang of the Taiwan Design Research Institute, Chief Creative Officer Giant Kung of Ogilvy Taiwan, and Founder and Chief Creative Officer Keng-Ming Liu of Bito. The three speakers, who are all key figures in the creative sector, shared their experiences and case studies from the perspectives of advertising, image, and design. They also explored how creativity can be a driving force, how products can be imbued with even greater value, and how the world can become a better place.