Highlighting Local Characteristics through Font Design: 36 "Chilling Out" Courses Showcase How Jiji's People and Culture Bring Everyone Together
Category:
Sketches of events
2022/12/28
Highlighting Local Characteristics through Font Design: 36 "Chilling Out" Courses Showcase How Jiji's People and Culture Bring Everyone Together


The United Nations announced the 2030 Sustainable Development Goals (SDGs) in 2015, which include 17 goals that are meant to guide humanity to work together and tackle the common crises that will be encountered in the coming years. Stress from issues associated with work, life, and the Covid-19 pandemic has impacted everyone in the world, which means everyone needs a "me place" to spend some "me time," an environment where they can chill out, recharge their batteries, and prepare for the next challenge on the horizon. But if you're going to chill out, then you need to be able to do it right. You need to find how to chill out in a way that works best for you. To this end, DynaComware has compiled the local characteristics along the Jiji Railway Line and its surrounding areas to establish the Jiji Super Chill Out School. Furthermore, DynaComware has created the limited-edition Dyna Chill Out Font for its summer 2022 activities, in which the font design embodies the fondest memories of local travels along the Jiji Railway Line, which is over a century old. These efforts helped promote the sustainable development of local towns.
 
Taiwan is blessed with tremendous variety in its mountains and seas, and there are many unique towns nestled in its hills and seaside. Jiji Township in Nantou County, as well as the nearby towns, villages, and hot springs in Shuili Township, used to be thriving and full of life. However, as their populations slowly dwindled, the fascinating characteristics of these places have been forgotten. The population density of this region is now the second-lowest in Taiwan. However, the century-old railway line still passes through the area, and there are many historical sites and distinctive cultural elements to be found along the tracks. DynaFont has chosen to highlight the extraordinary qualities of these local towns through font design. Accordingly, it has established the Jiji Super Chill Out School, in which font design and aesthetics serve as a guide to local sites along the railway. Furthermore, DynaFont collaborated with mom-and-pop shops in the area to create 36 relaxing, hands-on classes that visitors can enjoy in a chilled-out fashion. This will draw in guests from other areas to come to Jiji and experience the unique charms of the region.
 
Official website of the Jiji Super Chill Out School: https://www.dynacw.com.tw/chilling-at-jiji/
 

Showcasing the Charm of Local Towns through Font Design! Historical Wonders Found in Each Stroke of the Pen
---
What would you think if someone told you that the unique charm of wandering through local towns can be found in every stroke of a Chinese character? Every individual thread that combines to weave a tapestry of rural life in Jiji Township, Nantou County—whether it's a stray cat relaxing by the train station, a child feeding the fish in a pond, or old men chatting in a town square—can be found hidden in a Chinese font. The Dyna Chill Out Font created by DynaFont is a limited edition font created specifically for the Jiji Super Chill Out School. Every line in every character exhibits the unique aura of rural life, where it's chill, relaxed, and peaceful. The Dyna Chill Out Font is based on the universal design elements found in the DF UD Gothic, but with a wider counter space. Furthermore, the rounded corners of the DF Yuan are applied and expanded, adding additional liveliness and cheer to the font. The Dyna Chill Out Font also incorporates local cultural characteristics to create a limited edition font that best embodies the Jiji region.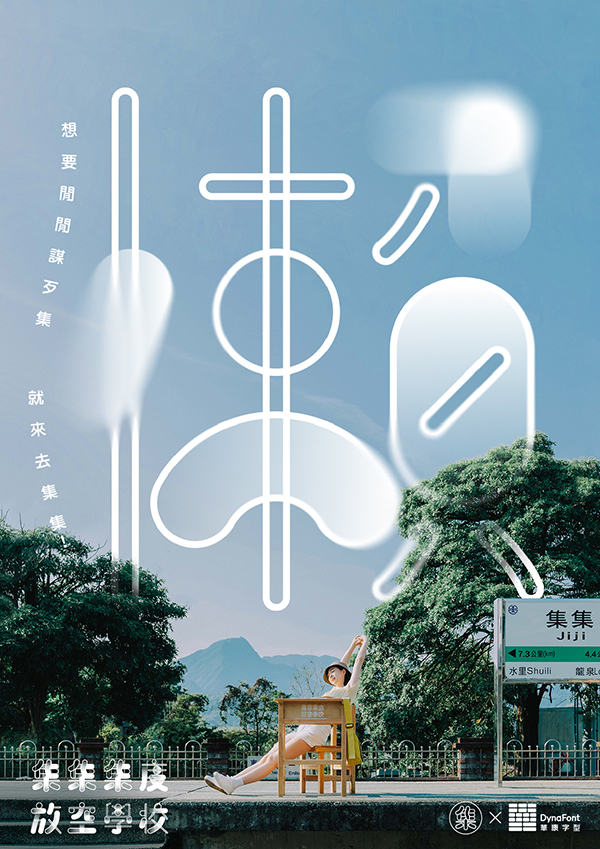 36 "Chilling Out" Courses Promote Local Highlights and Showcase How Jiji's People and Culture Bring Everyone Together
---
The Jiji Line is a railway that stretches from Ershui Township to Checheng Township, and DynaFont has planned a whole bunch of chill out activities along the way! From chill out sports to chill out foods, from chill out work to chill out studies, the 36 Chilling Out Courses are specifically designed to help people explore every aspect of Jiji in a relaxed, chilled-out way. "Listen to the River" is a class based in Yuanquan, in which participants visit the Babao Irrigation Canal, which has served to bring water from the Zhuoshui River since the olden days. Guided by local historians and experts, visitors can enjoy the sound of the flowing water and immerse themselves in the echoes of the past. "Making Friends Under the Banana Tree" is a camping activity in a banana plantation, in which participants can sit by a campfire, look up at the stars, and learn more about each other. "Making Wooden Figurines" takes place in the Grove Experience Factory, where visitors can really get into hammering and sawing wood to make their own wooden figurines. In the end, they can burn the character "Ji" into the completed piece to commemorate where it was made. "Courtship Practice" takes place at the Temple of the Moon God, who has traditionally been seen as the patron god of love and marriage. "Kitty Train Station Master Practice," which emphasizes punctuality in getting to work as well as leaving work, is highly recommended for visitors who want to get to know themselves. The 36 Chilling Out Courses are not just fun and interesting ways to pass the time. They are also a good way to draw in visitors to these rural lands, so that they can learn more about the Jiji area. Visitors can also shop at the Chilling Out Store, where they can pick up the best gifts as a way to cap off the most memorable chilling out journey of their lives.
The Promotion of Sustainability by Enterprises Coupled with Local Marketing is the Best Way to Highlight Local Regions
---
DynaComware has been actively helping local regions improve their image. In 2017, the company collaborated with Chenggong Township in Taitung County to create the "To Chenggong Mailbox," which collected messages from all over Taiwan while also increasing the visibility of Chenggong Township. This helped drive local tourism and commerce. Amy Lo, President of DynaComware (DynaFont), said, "Successful local marketing should be based on the local characteristics, the ones that can really move people. These characteristics can be packaged and promoted, and we can use design and communication strategies to draw people in and help them understand this place."
 
This year, DynaComware has come to Jiji Township and the Jiji Line for the first time. The goal is to overhaul the image of this region and express the local vitality and touching stories found along the Jiji Line. The mayor of Jiji Township, Ji-Heng Chen, has offered his full support for the creation of this Jiji Super Chill Out School event. He said, "I'm happy to see Jiji being promoted through this activity, and I'm also happy to see how the town has been revitalized. Usually, small towns like this would suffer falling populations as their residents move away, but this time we've seen crowds coming in! This event has brought people together, and uncovered ways to combine traditional elements with innovative imaging. This is a perfect example of sustainable promotion and local marketing!"
 
The effect of the Jiji Super Chill Out School on local vitality also corresponds well to SDG 11, "Make cities and human settlements inclusive, safe, resilient and sustainable." By calling upon the liveliness found in this small town, drawing tourists to learn more about local characteristics, and building positive connections between urban and rural regions, even this tiny township in a hidden corner of the mountains can find its way to achieving sustainable development.