The Craftsmanship of a Painter: The unique skills of movie billboard painting master Yen Chen Fa
Category:
Fonts and Culture
2017/10/06
The Craftsmanship of a Painter: The unique skills of movie billboard painting master Yen Chen Fa
The ancient city of Tainan has become a location not be missed when traveling in Taiwan. The bright red bricks of Chihkan Tower and Confucian Temple ascend into the blue sky with cornices while motorcycle riders and pedestrians stroll leisurely on the streets, giving the city a unique tropical character. There are two main focuses ("Mei," meaning beauty) in the daily lives of the people of Tainan: delicious (Mei) food and Chin-Men (Mei) Theater. Today, DynaFont story takes us to Tainan, not for the delicacies, but a direct visit of the vanishing art of hand-painted movie billboards. We meet with Yen Chen Fa, an artist who insists on acting as a guardian for the craft.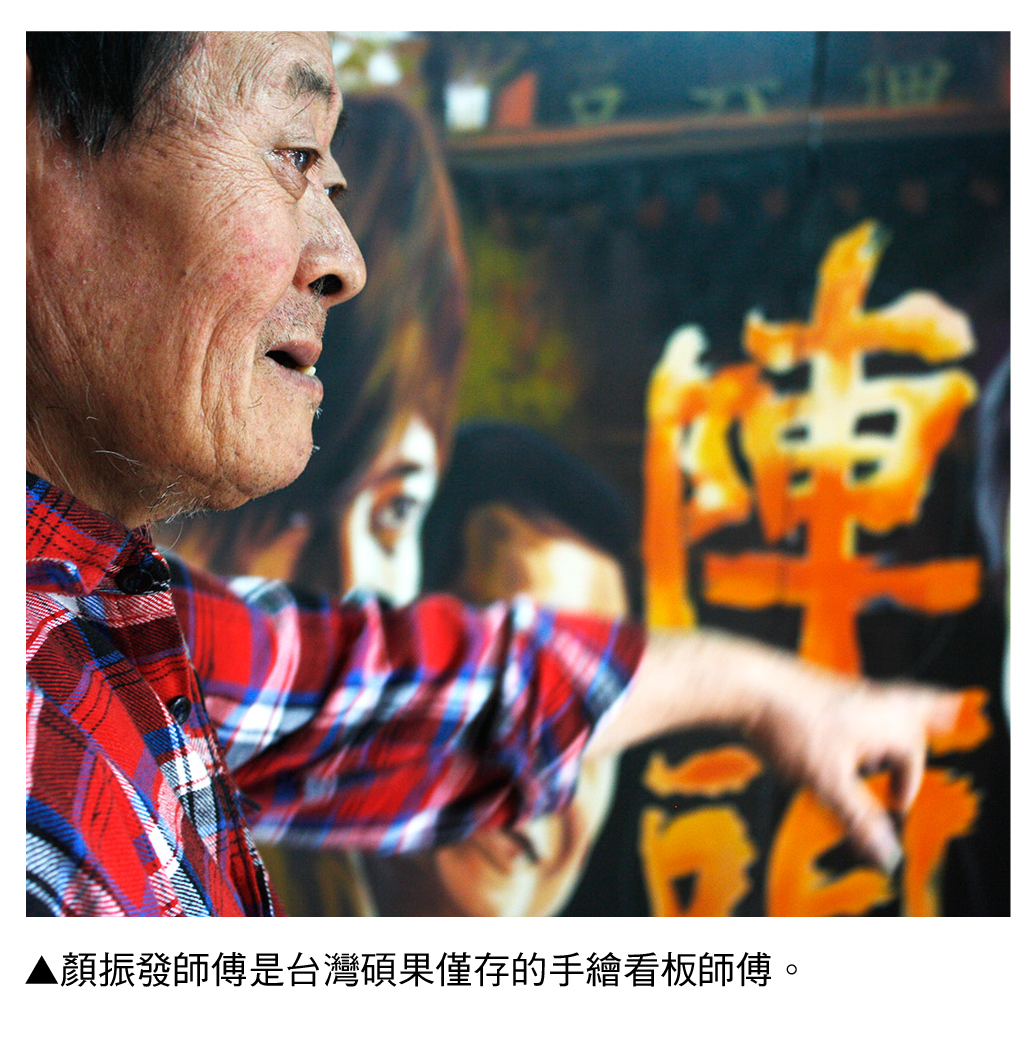 Using oil color to create unique movie scenes
Master Yen Chen Fa shuttle throughout downtown Tainan on his old motorcycle, a few basic paintbrushes and painting tools carelessly wrapped in a plastic bag in the front basket. People may be surprised to learn that these plain and ordinary tools were used to create unique scenes for the past few decades, each displayed on large billboards on the façade of Chin-Mei Theater.

Master Yen recalls spending the first year of learning the craft washing brushes. "At the time, teachers didn't teach students how to paint. We had to learn from observing." Since becoming an apprentice in junior high school, Master Yen has spent more than forty years in the profession. In the early days, to make a living, Master Yen once produced more than one hundred billboards in a month. Unfortunately, most billboards were removed and used for new movies when the old movies were no longer playing in the theater, thus leaving no record behind.
Fortunately, there is a storage space that stores several of Master Yen's works that were created in moderate sizes, a chance for people to have a close-up look at the energetic brushstrokes of Master Yen. During the interview, Master Yen seemed a bit shy but filled up with confidence when talking about his craft. He named his unique method as the "Breathing Brushstroke Method," a technique that gives more definition to the figures. Although Master Yen has opened classes for students, no one is capable of reproducing his lively effects.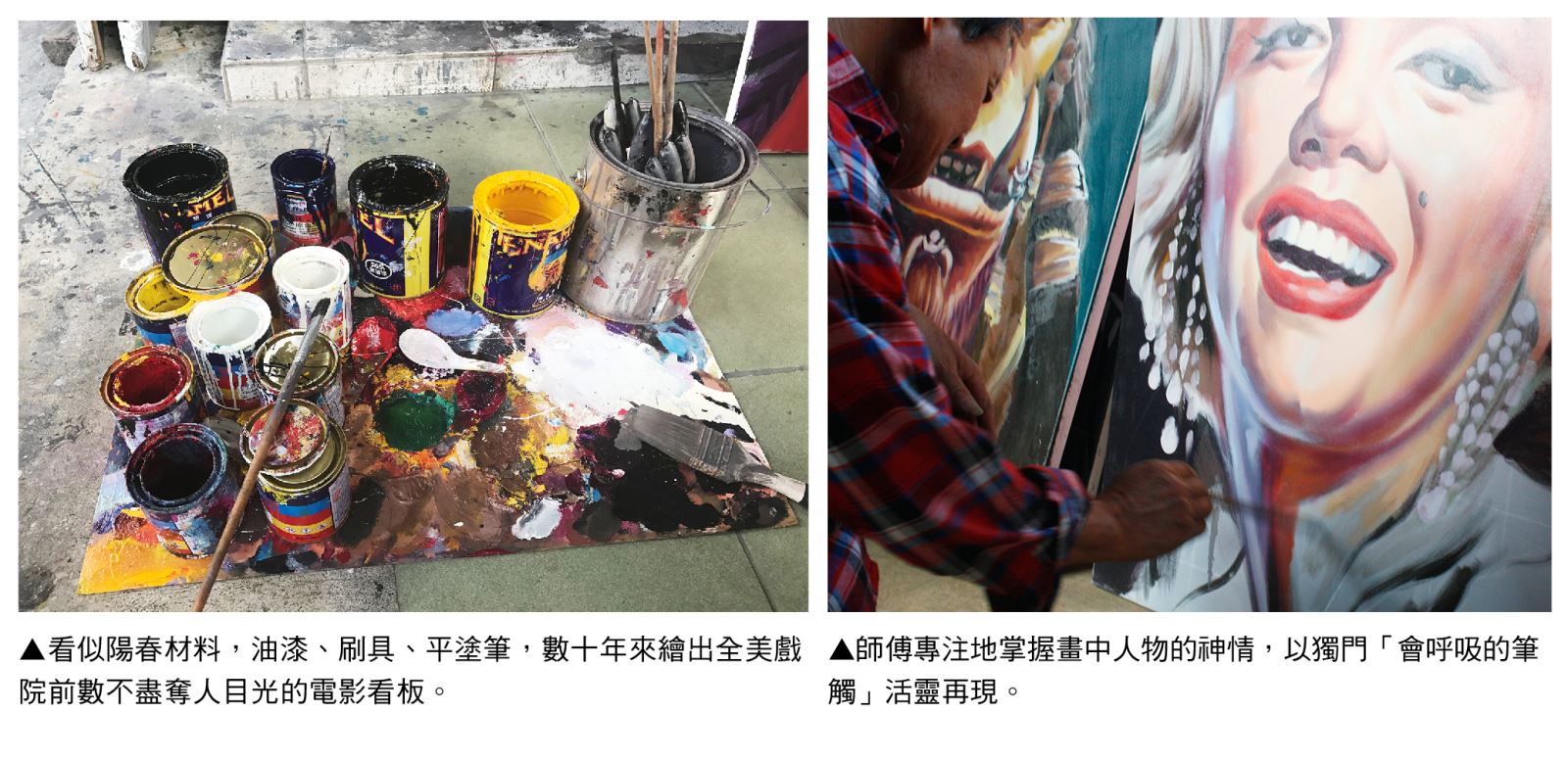 Heart-touching movements marked through hand-written texts
A movie billboard is not complete without its title. We asked the Master whether he had been trained in calligraphy or fonts during his time learning from a mentor. Master Yen revealed that his mentor was Chen Feng Yung, student of renowned painter Kuo Po Chuan. Chen Feng Yung also had beautiful handwriting, and so he received training. However, when the characters are one hundred times larger on the billboards, the structure and size of the characters may differ. When asked whether this process requires a lot of effort, Master Yen confidently declared that he is incredibly familiar with the process of drawing characters. Usually, he is able to finish the character in one go without the need for making a draft.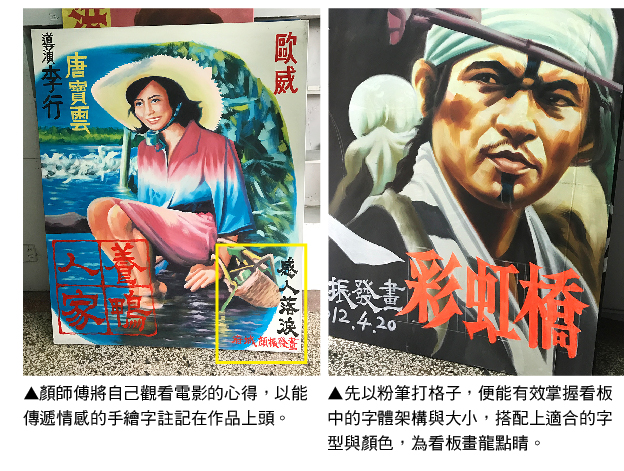 A visit to Master Yen's storage space is like a  brief journey through time through Taiwan's movie history; there were posters of "Brother Liu and Brother Wang on the Roads in Taiwan" of the early days to "Seediq Bale" and "Din Tao:Leader of the Parade," each created by Master Yen. Although the drawing process mostly consists of copying, Master Yen shares his own experience of the movies on the billboards. Placed in the corner, the billboard of "Beautiful Duckling" not only has the title, names of the movie director and actors, a few words that say "Heart-touching movie that brings tears to your eyes" were written in a corner. We pressed whether these words were on the original promoting poster, and Master Yen shyly replied "I added it myself. It's truly a touching movie!" A close inspection of the words reveals that the characters were written in rising brushstrokes, creating an emotional effect with a few strokes of the brush. This is the unique charm of hand-painted billboards.
A friend of Master Yen recommended another theater to us: Chin Jih Theater. Within close distance of Chin-Men Theater, Chin Jih Theater is home to more recent works by Master Yen that include a more variety of fonts. This series in Chin-Men Theater is themed on the Oscars and the movies by Lee Ang with texts that support the illustrations. Master Yen's friend told us not to mistake the small description texts as easy to complete. The sticky texture of oil makes it a difficult task even for the most skilled professional. The fact that Master Yen was able to create neat handwritings is a result of several years of hard work.



Hand illustrations that display the daily scenery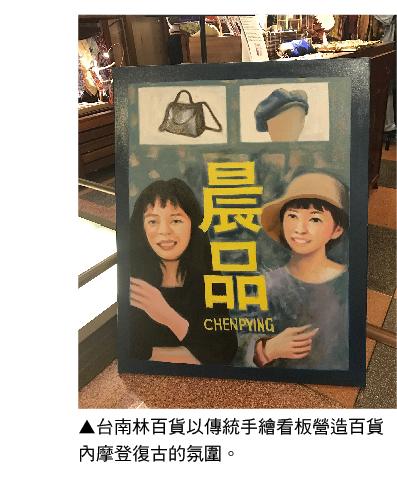 At the end of our interview, Master Yen enthusiastically recommended us to visit the famous Hayashi Department Store if we had spare time. Master Yen recently created hand-painted boards for the shops within the department store, giving the space a modern retro atmosphere. After forty years, Master Yen still has the energy to continue creating works. Master Yen stated that he will continue to promote this vanishing craft for as long as possible.
 
The scenery of hand-painted posters has merged with the city's daily landscape, swaying as ease. An accident encounter with a work created by the old masters creates an unforgettable experience that continues to blossom in the magnificence of the ancient city.