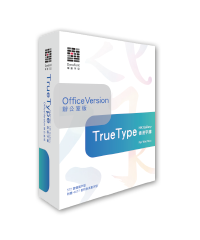 TrueType HK Gallery (Office Version)
DynaComware's TrueType HK Gallery offers a wide variety of Chinese fonts. With a collection of up to 574 sets of quality Dyna fonts, the Office Version fulfills the basic word-processing demands of offices. There are also 4,477 special English and mathematic fonts licensed to non-home users, including schools, companies, and government departments. The Office Version is recommended to all office users.
---
Product details


The TrueType HK Gallery (Office Version) has a wide collection of 574 Dyna fonts, including the classic Dyna fonts: Yuan, Hei, Kai, and Ming, the elegant calligraphy font, the stylish handwriting fonts, the POP Design font, and so on. A perfect font product for office users including schools, companies, and government departments, the TrueType HK Gallery (Office Version) makes the look of instructional materials and documents no more monotonous but more vivid and lively!

■ A font gallery tailored for Hong Kong and Macau users!
‧ Support both Windows 10 and Mac platforms for convenient cross-platform applications.
‧ Support the latest HKSCS (+PUA), ISO 10646/Unicode, and IICore.
‧ Writing styles meeting the needs of Hong Kong users.
‧ Include GB5 with effective conversion between Traditional Chinese into Simplified Chinese to ensure easy document exchange between Hong Kong and China.
‧ Support e-document embedding: PDF.
‧ Support multiple stroke orders and Chinese Pinyin for easy preparations of instructional materials.
‧ Additional 4,477 special English fonts.

More about the scope of license of TrueType HK Gallery Office Version

■ A wide variety of Chinese fonts
Basic: DFMing, DFYuanMXBold, DFHeiMedium, DFHKStdKai, DFHKStdSong, etc.
Li style: DFLiSong-Lt, DFLiSong-Bd, DFLiHei-Lt, DFLiHei-Md, etc.
LangMan: DFPLangManXue, DFPLangManHui, DFPLangManFeng, etc.
Unique: DFGirl, DFWaWa, DFTongTong, DFPuDing, etc.
Handwriting series: DFHanziPen, DFHannotate, DFEr, DFChu, etc.
Hand Draw Monument: DFKaiShu, DFXingShu, DFLiShu, DFOYangXun, DFKanTingLiu, etc.

■ Multiple sets of Simplified Chinese fonts, Pinyin fonts, Simplified Pinyin fonts, Korean series, Japanese series, and fun number fonts.
Windows 10 / 8 / 7 / Vista
Mac OS 10.7-10.11
PCs that can run the above operating systems.
Disk space: 2MB to 40MB
USB port.
Version
Pro
Home
Office
Pro
Home
Office
Font type
TTC
TTF
Traditional Chinese
150 sets
105 sets
152 sets
107 sets
Simplified Chinese
90 sets
70 sets
98 sets
77 sets
Japanese
22 sets
5 sets
22 sets
5 sets
Korean
 
 
4 sets
2 sets
Fonts of 23 countries
 
 
3 sets
2 sets
Pinyin
82 sets
82 sets
 
 
Variation
34 sets
26 sets
36 sets
28 sets
Sign Font
12 sets
12 sets
12 sets
12 sets
Illustrated fonts
22 sets
11 sets
22 sets
11 sets
Fun number fonts
 
 
38 sets
19 sets
● TTF: Outline fonts available in only one type of English letters and numbers, the commonly used TrueType Font.
● TTC: The TrueType Collection refers to a number of TTFs collected in one file. For example, the Microsoft MingLiU and Microsoft PMingLiU are TTFs are the system fonts of Microsoft Windows. The spacing of MingLiU is mono spacing, while the spacing of PMingLiU is proportional spacing
Please follow the terms of license on the box regarding the use of this product.
This product is protected under the ROC Invention Patents 108084 and 132321.
"TrueType" and "Windows" are trademarks of Apple Computer Inc. and Microsoft Corporation respectively.
This patent is only licensed to single personal computers. When not used in single computers, please legally purchase the genuine product according the number of computers.
The embedding function of fonts is for the sole purpose of home uses. Publishing companies should contact our sales personnel to purchase the ePublishing Version equipped with legally licensed embedded font files.
All trademarks, text, and images are the property of their respective owners
The user license does not include the free software coming with the product.
Other recommended products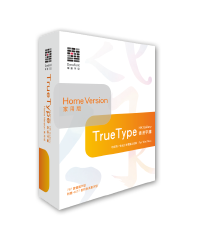 TrueType HK Gallery (Home Version)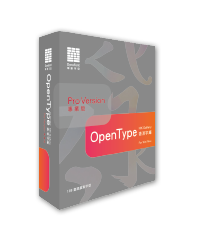 OpenType HK Gallery (Pro Version)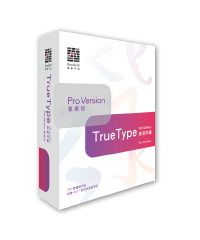 TrueType HK Gallery (Pro Version)