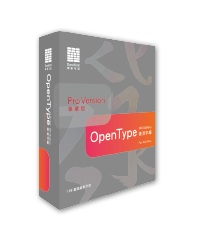 OpenType HK Gallery (Pro Version)
DynaComware OpenType HK Gallery includes 189 quality fonts, each in OpenType format with smoother, more aesthetic design for near-perfect screen display or printing, especially suitable for fine art designers and layout professionals who aim for 100% visual effects.
Unicode international standard format is applied as the font standard, supporting the latest Hong Kong supplementary character set while meeting the font writing method of the Hong Kong area, a high-quality font product specifically designed for Hong Kong customers.

---
Product details



The OpenType HK Gallery (Pro Version) has a wide collection of 189 Dyna fonts, including the classic Dyna fonts: Yuan, Hei, Kai, and Ming, the elegant calligraphy font, the stylish handwriting fonts, the POP Design font, and so on. All fonts are in the OpenType format for professional design and filled with different layout possibilities, upgrading your professional creativity!
 
■ Font Products Customized for Hong Kong and Macao Designers!
High-end OpenType font format included, with smoother curves and clearer display.
Support both Windows 10 and Mac platforms for convenient cross-platform applications.
Supports Unicode standard and HKSCS (+PUA), the latest Hong Kong supplementary character set, and ISO 10646, used in common by Hong Kong and Chinese platforms.
Writing styles meeting the needs of Hong Kong users.
Include GB5 with effective conversion between Traditional Chinese into Simplified Chinese to ensure easy document exchange between Hong Kong and China.
Includes built-in PostScript high-quality font data with no need for PostScrip font corresponding when exporting high-quality fonts.
Collocated with Adobe InDesign selection menu, includes switching and classifying functions for text symbols.
More about the scope of license of OpenType HK Gallery Pro Version
A wide variety of Chinese fonts
Basic: DFMingLight, DFBiaoKaiShu, DFYuan, DFHeiMedium, DFHKStdKai, DFHKStdSong, etc.
Li style: DFLiSongLight, DFLiHei, DFLiYuan, DFLiKaiShu, etc.
LangMan: DFPLangManXue, DFPLangManHui, DFPLangManFeng, etc.
Unique: DFGirl, DFWaWa, DFTongTong, DFPuDing, etc.
Handwriting series: DFHanziPen, DFHannotate, DFEr, DFChu, etc.
Hand Draw Monument: DFKaiShu, DFXingShu, DFLiShu, DFWZMing, DFKanTingLiu, etc.
Windows 10 / 8 / 7 / Vista
Mac OS 10.7-10.11
PCs that can run the above operating systems.
Disk space: 2MB to 40MB
USB port.
Please follow the terms of license on the box regarding the use of this product.
This product is protected under the ROC Invention Patents 108084 and 132321.
This patent is only licensed to single personal computers. When not used in single computers, please legally purchase the genuine product according the number of computers.
DynaComware Taiwan Inc. has the copyright to this font product. Please do not counterfeit and reproduce this product without a written license from DynaComware Taiwan Inc. to avoid breaking the law.
DynaComware and DynaFont are registered trademarks or trademarks of DynaComware Taiwan Inc. in Taiwan and/or other countries.
Microsoft, Windows, Windows Vista, Windows 7, Windows 8, and Windows 10 are registered trademarks or trademarks of Microsoft Corporation in the US and/or other countries.
All trademarks, text, and images are the property of their respective owners
Other company and product names mentioned in this product are all registered trademarks or trademarks of affiliated companies.
Other recommended products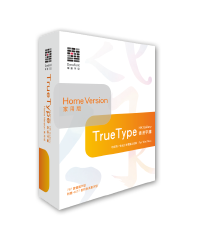 TrueType HK Gallery (Home Version)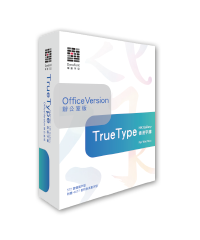 TrueType HK Gallery (Office Version)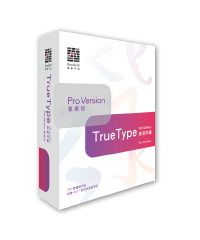 TrueType HK Gallery (Pro Version)